Motorhome motorhome 5 seats 160CV with dining room, bathroom, shower. It has a large fridge, GPS, rear camera, solar panel, sunroof in the cab, ample interior space, comfortable and easy to move inside the vehicle.




Features of the motorhome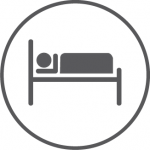 Extras:
Equipped with GPS and rear camera, speed control, driving sunroof, solar panel and 220v transformer.
Heating:
Adjustable channel heating that guarantees a pleasant temperature ideal to feel comfortable and comfortable for cold winter days.
Dining room:
Spacious space, which facilitates good communication between diners.
Kitchen:
The kitchen is equipped with all the necessary accessories. Gas hob, fridge with 2 doors, freezer. You have the kitchen kit: dishes, cutlery, glasses, pot, coffee maker, frying pan and cleaning products.
Toilet and shower:
Toilet with shower. It is spacious and practical. Also equipped with several cabinets and liquid to dissolve the sewage.
Insurance:
Motorhomes have full insurance with a tax of 600 euros. Roadside assistance 24h. All over Europe.
Garage:
The garage is located at the rear and is sufficient for luggage and bicycles.
Beds:
1 double electric swingarm bed on top of dining room. Even if the bed is down, there is still room on the dining table.
2 beds located in the back of the motorhome, with the possibility of transforming the beds into a large double bed.
Awning:
Complete the fixed motorhome equipment with a swing awning 3 x 3 meters outside.
Rates
Reduced season
Week-end: 295€ /day
+ 5 day: 95€ /day
Price/day: 105€ /day
Minimum 3 day
Low season
Week-end: 350€ /day
+ 5 day: 115€ /day
Price/day: 125€ /day
Minimum 3 day
Mid season
Price/day: 137€ /day
Minimum 5 day
High season
Price/day: 171€ /day
Minimum 7 day